The AUTOnomy is the first vehicle in the world to be designed around an electric propulsion system from the ground up. As the first vehicle under the General Motors "Reinvention of the Automobile" program it has changed the trajectory of global transposition.  The result, which has been copied more than a dozen times, is an intelligent and electrified system with software controls, drive-by-wire technology, an electric power source, and electric motors in the wheels.
The AUTOnomy showcases a revolutionary new electric platform where all the technology needed for the vehicle's operations is contained. This groundbreaking design provides the ability to offer an unlimited number of interchangeable vehicle bodies can be affixed to a single skateboard platform.
The AUTOnomy sports coupe design was inspired by motorcycles and fighter jets. The coupe body can easily be connected and docked to the skateboard in the time it takes to change oil or rotate the tires.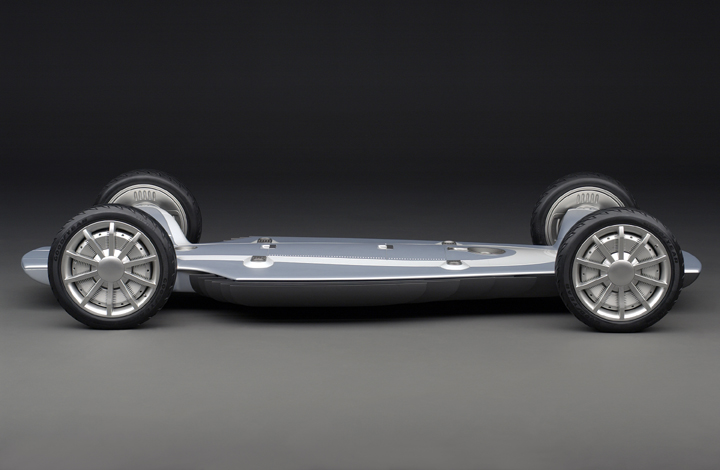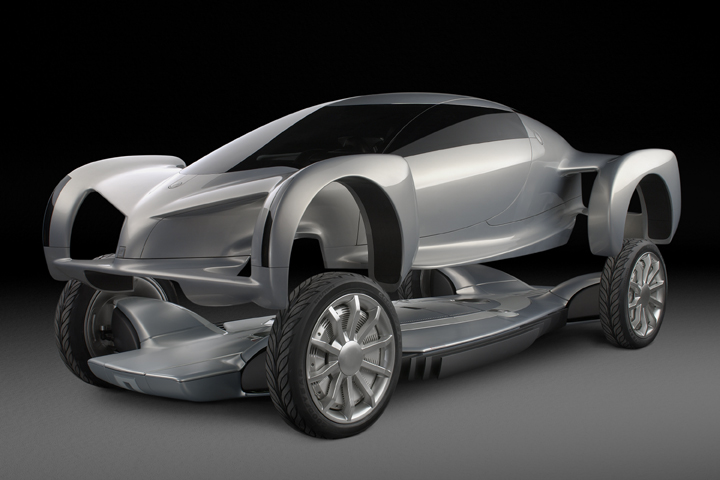 AWARDS
MICHELIN CHALLENGE DESIGN – "Most Significant Technology and Design Enabler", 2002
POPULAR SCIENCE – 15th Annual Best of What's New Award 2002 "Breakthrough automotive technology of the year"
ID MAGAZINE – "Best concept Car of the Year" of 2002
DETROIT FREE PRESS – "Most Significant Technology" 2002
ENGINE TECHNOLOGY INTERNATIONAL: "Engine of the Year" Award Best Concept Category 2002
VEHICLE SPECIFICATIONS
Height (in / mm): 49.1 / 1247.1
Length (in / mm): 175.8 / 4465.3
Width (in / mm):74.0 / 1879.6
Wheelbase (in / mm):122.0 / 3098.8
Front Track (in / mm): 65.0 / 1651.0
Rear Track (in / mm):68.0 / 1272.2
Powertrain: Fuel cell
X-by-Wire (X-drive) Supplier: SKF, Göteborg, Sweden
Wheel Motors: One on each corner
REINVENTING AN INDUSTRY
Rethinking the vehicle from the ground up.
Reinventing the customer experience.
PRESS COVERAGE
BUSINESS 2.0: "GM's Race to the Future", by Ralph King, October 2003
THE NEW YORK TIMES: "The Mix-and-Match Car of the Future", by Danny Hakim. January 10, 2002
BUSINESS WEEK; "Global or Local? Make it Both", by Gianfranco Zaccai, August 22, 2005
INNOVATORS OF ANDERSON: July 2006
MIRAGE MAGAZINE, "Acclaimed inventor, innovator, and futurist", by Randy McCoach, Winter 2008
ALBUQUERQUE JOURNAL – "Duke City man helps Design Breakthrough Vehicle", by Aaron Baca, January 12, 2002
POPULAR SCIENCE – "Your car," by Michelle Krebs, May 2002
CBS EVENING NEWS WITH DAN RATHER – "Auto Show Would Rev Up Economy With Innovation", January 7, 2002
THE NEW YORK TIMES – "A Dressed-Up Skateboard", by Danny Hakim, January 10, 2002
WIRED – "Object in Mirror May be Closer Than it Appears" by Dan Baum
CAR DESIGN NEWS – "GM Hy-wire Concept to Debut at Paris Motor Show"
FORTUNE – "GM rethinks the car completely," by Stuart Brown, April 15, 2002 ("The Autonomy program appears to have blown a whiff of freshness into fuddy-duddy old General Motors. A number of its principal participants are patently eclectic folk, some hailing from outside the car business. One manager used to work at federal weapons laboratories and Disney Imagineering, which develops technology for the Disney theme parks.")
Design Freedom

80%

Technology Innovation

75%

Technology Availability

50%

Industry Transformation

100%
Reinventing the Automobile Program
"If we were reinventing the automobile today, what would we do?" Rick Wagoner, Chairman and CEO of General Motors
Learn about the Program
POWER SOURCE: The Skateboard is powered by electricity.  The fuel can come from batteries, a hybrid engine outputting electricity, or in this demonstration; Fuel cells make use of hydrogen stored in the vehicle and oxygen taken from the air to produce electricity; water and heat are the only by-products. (Hydrogen is the most abundant element in the universe.) There is a single refueling port an exhaust outlet disperses water vapor are also integral to the design. With the Fuel Cell design optimized cooling fins are mounted externally disperse heat output from propulsion system.
FULL BY-WIRE-CONTROL: Full drive-by-wire allows steering, braking, and other vehicle systems to be controlled by electrical signals rather than traditional mechanical joints and linkages.
SAFETY:  With most of the weight distributed in the Skateboard the vehicle has a lower center of gravity enhancing vehicle performance. Perimeter structural impact zones have been optimized for safety and crash energy management.
SKATEBOARD PLATFORM: A six-inch-thick chassis houses the entire propulsion system while four independent electric wheel hub motors in the wheels (e-corners) enable four-wheel drive, four-wheel independent steering, and dual-direction driving, acceleration, and braking.
SOFTWARE VEHICLE: The body and skateboard are software programmable and customizable; they can also learn from and adapt to their environments, to a specific docked body type, or to the user. In combination with its hardware, the AUTOnomy's software can adapt to a user or be pre-conditioned for certain driving characteristics, such as braking, cornering, and acceleration.
CONNECTIVITY: Electrical mechanical body attachment mounts lock the body in place and onto the skateboard. A smart single-access docking port connects and links power, control, heating and cooling systems from the skateboard to the body.
MANUFACTURING IMPACT: By decoupling the body and the skateboard during the manufacturing process, using a modular assembly, and taking advantage of an accelerated and adaptive vehicle development process, millions of skateboards can be manufactured at a single location. Doing so achieves economies of scale to reduce cost and also to optimize efficiencies.
ASSEMBLY: Various bodies and body styles can then be built and customized at satellite assembly plants worldwide for both emerging and established markets. This flexibility allows the vehicle to be adapted to fit the needs of unique global markets, changing lifestyles, and various customer requirements.
SWAPPABLE VEHICLE BODIES: The body of the vehicle can be tailored to a specific manufacturer type, to a desired interior vocabulary, and to any exterior form or desired style. The body has a floor and can be home to a single seat or several seats.

AUTONOMY VEHICLE IMAGES
WORLDWIDE UNVEILING
2002 North American International Auto Show in Detroit, MI
The AUTOnomy was unveiled January 2002 at the North American International Auto Show (NAIAS). The introduction of the vehicle was revolutionary even within the auto show world. The AUTOnomy skateboard drove itself out—to the surprise of amassed automotive executives and members of the press—and officially became the world's first remote-controlled car. This eye-popping vehicle was followed by another remote-controlled AUTOnomy; this time, the roadster body was smoothly lowered onto the skateboard and then remotely propelled out onto the stage. The General Motors AUTOnomy body showcased a futuristic two-seat roadster body (one of its many possible interchangeable body styles) that was inspired by motorcycles and fighter jets as well as organic forms.

The Reveal Speech
Introduction by Rick Wagoner, President and CEO of General Motors (source GM.com)
Today, we're making what we believe is one of the most significant concept vehicle announcements that GM has made – at this show, or any show. This program started with a simple question: If we were inventing the automobile today – rather than over a century ago – what would we do differently?
At GM, over the years, this kind of question has always been more than an intellectual exercise…
… because it is innovation that has made GM what it is today – and it's innovation that will keep us in the global industry leadership position in the years to come. And that leads us to today's announcement.
In a minute, we will introduce a revolutionary concept… so revolutionary that, we believe, it's no stretch to say it could literally reinvent the automobile. This concept provides a vision of the coming hydrogen economy – a world of truly sustainable mobility, in which vehicles are propelled by renewable energy sources; thus largely removing the automobile from the environmental equation.
From our perspective, the key to this vision is the fusion of fuel cells, with by-wire technology. By merging these two rapidly developing technologies, we've designed a vehicle that is revolutionary — both in its departure from the past… and in its promise for the future.
So, what if we were inventing the automobile today, rather than over a century ago? It's my pleasure to present… AUTONOMY.
Continuation by Larry Burns, VP of R&D and Planning
We called our concept AUTONOMY because freedom is what automobiles are all about. I'm talking about the freedom to go where you want to, when you want to and with the people and things you desire to take along I'm also talking about the freedom of people to buy the types of trucks and cars they aspire to own. Autonomy builds on these freedoms in three important ways…
First, it provides design freedom by removing many of the traditional constraints designers face today when creating automobiles. Next, it enables sustainable mobility, which ensures future generations the freedom to meet their needs. And finally, Autonomy contributes to the freedom of energy independence, which results from hydrogen replacing petroleum as the primary energy source for transportation.
To reinvent the automobile around today's technology, we started with a clean slate. Our opportunity was to create an all-new, logical and exciting design from scratch. By combining fuel cell and by-wire technology, we landed on an innovative vehicle architecture with a 6-inch thick skateboard-like chassis. As you can see, we gave Autonomy's chassis it's own great look. It has electric motors at all four wheels and the fuel cell stack, hydrogen storage system, controls and heat exchangers are embedded within.
There is no IC engine, no transmission, no drivetrain, no axles, no exhaust system, no radiator and no mechanical steering, braking and accelerating linkages. In fact, the only things moving other than electrons, protons, water and air, are the wheels and suspension!
Autonomy also has a simple electrical/software connection between its interchangeable bodies and the chassis. This occurs through a single portal, with the body docking on the chassis much like your laptop computer connects to your docking station at work or home. The simplicity of Autonomy's bodies results in dramatically fewer design constraints.
We envision bodies ranging from compact and family cars to SUVs mating with our chassis… And to illustrate this, we used aircraft and motorcycle designs to imagine tomorrow's sports car, much like GM did with our Firebird concepts of the 50's. …
Simplicity plus a new business model will lead to reduced cost. This results from increased manufacturing scale economies, simplified vehicle development and replacing mechanical systems with fuel cell and by-wire technology.
With a vehicle like Autonomy, everyone in the world has a better shot at "automobility." Today, 100 years after the automobile's invention, only 12-percent of the people in the world enjoy the freedom benefits of personal transportation. AUTONOMY offers the promise of extending this freedom to even more people, as we work to make vehicles dramatically cleaner and reduce the cost of advanced technologies like fuel cells and by-wire.
AUTONOMY is the kind of vehicle that goes to the heart of the ownership equation — consumers will choose to buy a vehicle like this because of the exciting new features it offers and the passion it inspires.
Closing Remarks by Rick Wagoner
Thanks, Larry – and thanks to everyone on your team at R&D… and Wayne Cherry's Design staff… for this exceptional effort.
THE TEAM
LEADERSHIP TEAM: Chris Borroni-Bird – Program Director, Adrian Chernoff – Chief Vehicle Architect, Ed Welburn, Executive Director of Design, Mohsen Shabana, and Robert Vitale
PROGRAM CHAMPIONS: Rick Wagoner – CEO & Chairman, Larry Burns – Vice President of R&D, Robert A. Lutz – VP of Global Product Development, Wayne Cherry Vice President of Design
RESEARCH & DEVELOPMENT TEAM:Larry Burns, Christopher Borroni-Bird, Adrian Chernoff, Mohsen Shabana, Robert Vitale, Bill Surber, Bruce Zemke, Vince Barabba, Frank Colvin, and executive Directors: Jamie Hsu, J. Byron McCormick, and Robert Purcell.
DESIGN TEAM: Wayne Cherry, Edward T. Welburn, John Taylor and the AUTOnomy design team: Body Theme Creator: Alan Nicol, Body Lead Designer: Mike Pevovar, Design Manager: Mark Kaski, Chassis Lead Designer: Chet Wisniewski, Initial Concept and Theme Creator of the Reinvention of the Automobile: Tucker Johnson, and concept designs and program support by Marc Mainville, Andy Hanzel, Daniel Booth, Alan Rhodes, Dick Fancy, Jason Tilk, Vladimir Kapitonov, Lawrence Baker, Sung Paik, Mono Mavroleon, Mitchell Tung, Scott Shippen, and Josh Kaplan.
GM FABRICATION: Randy Maes, Ken Michie, Al Seely, Rod Green, Greg Olsen + GM Design Fabrication Staff.
AUTO SHOW EXHIBIT: Joe Meagher, GM Auto Shows and Exhibits + Jack Morton Worldwide: Jerry Deeny, David Mervenne, and Rick Yardly.
MARKETING SUPPORT: John Mckernan, Hong Tran, Jeffrey Sedlar, Karl Barr, Chor Wong, Steve Harris, Tom Kowaleski, Chris Preuss, Scott Keller, Scott Fosgard, Karl Bates, Mary Kathryn Seipke, Mary Woodbeck, Wendi Parson, Pete Barkey and Bob Campbell.

Summarizing the Autonomy
At its heart, the General Motors AUTOnomy is about design freedom. The automobile was created over 100 years ago, but ever since then, it has been plagued with limitations. Those limitations have been eased as time has gone on—the automatic starter, for example, dramatically improved use and reliability compared to the earlier vehicles that had to be started with a manual hand crank. But the AUTOnomy brings us more than a simple upgrade. The entire platform, in fact, removes all constraints, because its only moving parts are electrons, protons, fluids, and wheels. There is no engine to produce wasteful by-products, nor are there any mechanical linkages to keep drivers and passengers fixed in a traditional seating scenario. And from a design and production standpoint, there is no need to reengineer the entire vehicle every time a new vehicle model or brand needs to be designed and developed.
The General Motors AUTOnomy is a revolution in automobile design, manufacturing, and customer experience. Because of the skateboard platform, vehicle bodies can be easily swapped out and interchanged: drivers can switch between a coupe and a sedan or a roadster and a pickup. With the AUTOnomy's advanced electronic vehicle controllers and electrical network, the skateboard can be instantly reprogrammed to coordinate itself with the vehicle body that's been placed on top of it. Since the skateboard is essentially a self-powered platform with electric motors, it offers infinite software and hardware upgrades for predefined or customized performance and ride configurations.
Thanks to this incredible electrification of the vehicle, the new design freedoms inherent in both the interior and exterior of the vehicle offer drivers unlimited possibilities. AUTOnomy vehicles stay in the forefront of automotive evolution, too, because they are capable of featuring more options and upgrades as new technology, materials, or vehicle improvements are offered.
The AUTOnomy's concept of tomorrow's vehicles is already igniting the imagination of designers and inventors. No longer stuck with the standard constraints of an engine in the front and a trunk in the rear, new design freedoms enable new design vocabularies and smart vehicle interiors to come into being. Imagine the many future features that will one day be showcased at the Consumer Electronics Show (the world's largest consumer technology tradeshow)! These features will offer an endless array of vehicle upgrades and new consumer experiences that will enhance the vehicles of tomorrow. With the AUTOnomy, now it's all possible.
Customers and the environment will both benefit from the AUTOnomy. The easily-upgraded skateboard and vehicle bodies can be bought, rented, or leased as consumers' needs change. (Plus, the skateboard is designed to outlive today's modern means of transportation.) This new concept of car ownership will not only save the planet from harmful green house gas emissions, it will offer an inexpensive and recyclable alternative to the kinds of vehicles we have now.
This smartly-integrated electric vehicle takes full advantage of component packaging, software configurability, and electronic connectivity and controls to reinvent the automobile. Because the AUTOnomy features electricity in electric wheel motors, fuel cells and batteries—and even internal combustion engines—can power the future of mobility using electrification.
The GM AUTOnomy is a powerful vision of what the future of personal and automated transportation may hold; as such, it offers an endless variety of two-wheel- and all-wheel-drive vehicles built from various flexible "skateboard" chassis platforms. In short, AUTOnomy drivers have access to unlimited plug-and-play body styles.
Rick Wagoner, GM's Chairman and CEO, said it best: "The AUTOnomy is … the start of a revolution in how automobiles are designed, built and used." The skateboard architecture is highly adaptive, scalable, modular, and upgradeable, and it includes all essential systems: the propulsion system, an electronic network, electric traction and drive motors, and on-board energy storage. The result is a zero-emissions vehicle with no carbon footprint from tailpipe exhaust. The AUTOnomy is the future, a future where the only emission coming from the tailpipe will be clean water vapor.
The journey of reinventing the automobile starts and ends with the GM AUTOnomy and its clean technology architecture. As technology improves and vehicles become electrified with electric motors and by-wire controls (which will eventually lead to an all-electric-controlled vehicle), the GM AUTOnomy will go from being an inventor's vision to becoming everyone's reality. We have already seen a few vehicles that are helping usher in this reality: the100% battery-powered Tesla Roadster, the plug-in GM Chevy Volt (propelled by batteries and fueled with gasoline), and Honda's FXC, which is fueled by hydrogen fuel cells.
Each of these electricity-first (versus petroleum-first) vehicles in the Reinvention of the Automobile program brings the AUTOnomy closer and closer to being a reality. In conjunction with work on the GM Hy-Wire and the GM Sequel, development of the AUTOnomy resulted in the company's first plug-in hybrid, the Chevy Volt. The Volt utilizes identical packaging and advances in technology to take that first step in crafting a sustainable, electrified automotive future. And the technology of the Autonomy underpins Tesla Motors.