The GM Hy-Wire is a fully functional and drivable vehicle with comfortable seating for five. It features a removable vehicle body that is easily interchangeable with a docakable skateboard housing all the propulsion, energy storage, and control systems. The GM Hy-Wire is the second step in Reinventing the Automobile, a journey that has catapulted the GM AUTOnomy vision towards commercial reality of idea of electrifying transportation. The Hy-Wire demonstrates that the Reinvention of the Automobile is real. In the future, the GM Hy-Wire will be seen as the foundation of modern transportation.  
General Motors HY-WIRE is a Touring Sedan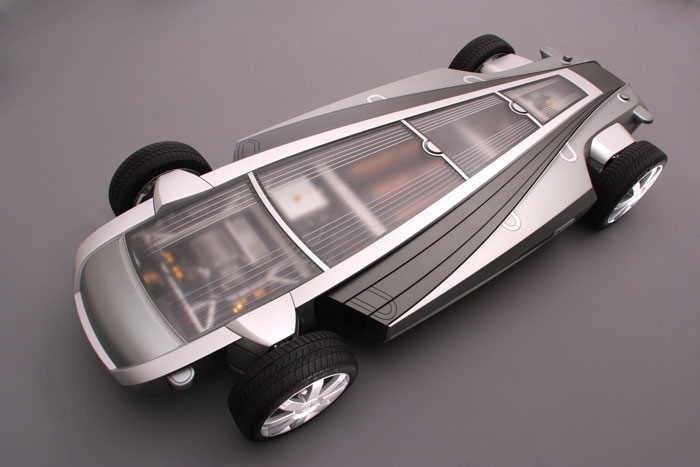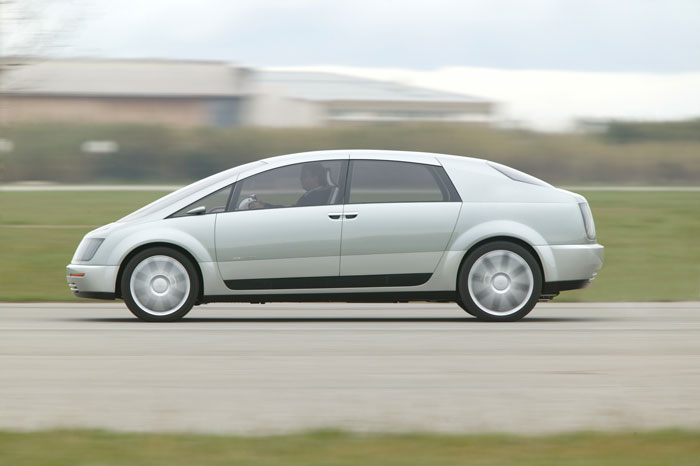 AWARDS
EYES ON DESIGN – "Most Significant Design Enabler"
AUTOMOTIVE NEWS – "Concept Car of the Year", 2nd Place
AUTOMOTIVE NEWS – "Environmental Strategy Concept Car of the Year"
WIRED MAGAZINE – "Rave Award" for Industrial Design
TIME MAGAZINE – "Coolest invention" of 2002
CAR STYLING MAGAZINE – Concept Car Design Award: "Golden Marker Award for Excellence in Design"
Belgian Association of Professional Auto Journalists – "Car of the Future" (The honor is awarded to the vehicle considered the most innovative, the most spectacular, the most original or the most practicable.)
Engine Technology International – "International Engine of the Year Award"
Croatian Association of Automotive Journalists – "The Golden Steering Wheel Award"
"Best Concept Outside the Normal Definition of a Car or Truck" 2003 Auto Show Season – (voted by 35 Automotive Writers)
South East Automotive Media Organization (SEAMO) – "Most Significant Concept Vehicle of the Year"
VEHICLE SPECIFICATIONS
Skateboard: Aluminum Frame
Body: Steel and fiberglass
Length: 5 meters (195 inches)
Vehicle size / weight: Mass: 1,900 kg (4,185 pounds)
Wheel base: 3,114 mm (122.6 inches)
Seating capacity: 5
Configuration: Front-Wheel Drive
Skateboard Dimension L/W/H: 171.5/65.7/11 inches
ELECTRIC MOTORS SPECS
Electrical traction system: Three-phase asynchronous electric motor
Electrical traction system Operating voltage: 250-380 Volt
Electrical traction system Maximum rating: 60 kW
Electrical traction system Maximum torque: 215 Nm (159 lb-ft)
Electrical traction system Maximum rpm: 12,000
Electrical traction system Transmission ratio: 8.67:1
PRESS COVERAGE
BUSINESS 2.0: "GM's Race to the Future", by Ralph King, October 2003
BUSINESS WEEK; "Global or Local? Make it Both", by Gianfranco Zaccai, August 22, 2005
MIRAGE MAGAZINE, "Acclaimed inventor, innovator, and futurist", by Randy McCoach, Winter 2008
FORTUNE – "GM rethinks the car completely," by Stuart Brown, April 15, 2002
ALBUQUERQUE JOURNAL – "Duke City man helps Design Breakthrough Vehicle", by Aaron Baca, January 12, 2002
POPULAR SCIENCE – "Your car," by Michelle Krebs, May 2002
CBS EVENING NEWS WITH DAN RATHER – "Auto Show Would Rev Up Economy With Innovation", January 7, 2002
THE NEW YORK TIMES – "A Dressed-Up Skateboard", by Danny Hakim, January 10, 2002
CAR DESIGN NEWS – "GM Hy-wire Concept to Debut at Paris Motor Show"
AUTOMOBILE – "The Shape of Things to Come? by Jamie Kitman
AUTOMOTIVE INDUSTRIES: "Hy-Wire Act" by John Peter
Surviving Transformation: Lessons from GM's Surprising Turnaround, By Vince Barabba
The Automotive Industry and the Environment, By Paul Nieuwenhuis
FUEL CELL SPECS
Fuel storage system: 3 cylindrical high-pressure tanks of carbon composite
Fuel storage system Length/diameter: 1,161/241 mm (45.7/9.5 inches)
Fuel storage system Total capacity: 2 kg (4.4 pounds)
Fuel storage system Total weight: 75 kg (165 pounds)
Fuel cell stack: 200 single fuel cells; connected in a series
Fuel cell stack Voltage: 125-200 Volt
Fuel cell stack Length/width/height: 472/251/496 mm
Fuel cell stack Pressure: 1.5-2.7 bars
Fuel cell stack Continuous rating: 94 kW, peak of 129 kW
Fuel cell stack Power density: 1.60 kW/l, 0.94 kW/kg
Design Freedom

60%

Technology Innovation

65%

Technology Availability

75%

Industry Transformation

100%
Reinventing the Automobile Program
"If we were reinventing the automobile today, what would we do?" Rick Wagoner, Chairman and CEO of General Motors
Learn about the Program
FUEL-CELL SKATEBOARD: An eleven-inch-thick skateboard chassis houses the entire propulsion system. A single electric drive motor up front propels the front tires, the drive-by-wire steering system accelerates and brakes with the aid of 20-inch tires in front and 22-inch tires in the rear, and the fuel cell propulsion system running on hydrogen provides the electric power that can propel the electric drive motor to a top speed of 100 mph. Total vehicle weight is 4,200 lbs. The hydrogen-powered fuel cell is capable of providing 100kw of continuous power; based on the compressed tanks of hydrogen packaged in the middle of the skateboard, it has a range of 100 miles.
ELECTRIC BATTERY SKATEBOARD: To pre-validate the electric vehicle, the platform was engineered as a fully-electric skateboard with electric motors, control systems and a rechargeable battery pack, which became the underpinning of Tesla Motors vehicles. The battery platform enabled the skateboard to be validated and tested prior to swapping out the functional limited range fuel-cell system. The benefit of having a fuel-cell system is long-range distance which is why fuel-cells excel over batteries.  Regardless of the use case; a rechargeable battery powered system, a hybrid electric and gasoline system as well as a fuel-cell system have been patented enabling full flexibility of the platform in combination of one or many electric motors.
VEHICLE BODY DESIGN: The Hy-Wire vehicle body features a five-seat touring sedan features cameras that capture external side-view mirror data. That data is then displayed on LCD monitors mounted within the interior. A rear-view camera captures rear-view images that are displayed on a display mounted within the drive-by-wire steering wheel. A translatable driver console features braking, steering and accelerating controls—all at the user's fingertips—and can be driven from either a right-hand or left-hand position. Additional features include power armrests that fold up and down, adjustable driver and passenger footrests, a rear glass trunk panel with headlamps that power up and out at a touch of a button, a refueling port on the body side, a single "Power: On" button, a body port to plug in the docking connections to the skateboard, LED head lamps and tail lamps, and electroluminescent exterior logos, headliners, doors, trim, and floor illumination.
OPEN DESIGN: The front and rear body panels are made of transparent glass, which means that the driver can see through the front of the car through the traditional hood location and through the back of the car through the "trunk." Seats are made of see-through mesh, affording the driver even greater visibility.
FULL DRIVE-BY-WIRE: The drive-by-wire system enables steering, braking and other vehicle systems like acceleration are optimized with software for ease of use (all vehicle systems are controlled electronically rather than mechanically). The driver brakes, accelerates, and steers with either the right or left hand—there are no pedals to operate.  Acceleration is achieved by gently twisting the handgrip, braking is done by squeezing the handgrip, and steering consists of gliding the hand up or down the handgrip, a motion similar to the circular motion of a traditional steering wheel.
BODY HOIST: A portable spider-like device called the Spider Body Hoist attaches to the body. After removing the body to skateboard mounting bolts, the hoist lifts the body off the skateboard with an integrated top-mounted hoist. Once the body is removed, it can be wheeled off, exposing all the internal organs of the skateboard and its vehicle's systems. They can then be easily serviced, upgraded, or repaired.

HY-WIRE IMAGES
WORLDWIDE UNVEILING
2002 International Auto Show in Paris, France
The General Motors Hy-Wire was unveiled at the International Auto Show Paris in 2002 and subsequently shown at the North American International Auto Show (NAIAS) in January 2003. The first "Ride and Drive" event for the media and assorted dignitaries began touring the globe after the Paris Autoshow in late 2002.

Introductory Speech
Introduction by Rick Wagoner, President and CEO of General Motors (source GM.com)
We asked our global technology and design teams the following question: If we were to re-invent the automobile today, using everything we know about current and developing technologies, what would it look like?
Their response was Autonomy. Many of you were here for its debut in January 2002. Autonomy was the marriage of fuel cell propulsion and by-wire controls… in a package that challenged the industry's most conventional assumptions about vehicle design, safety and performance.
After Autonomy, we delivered on our promise to introduce the driveable Hy-wire vehicle – powered by a GM hydrogen fuel cell – at the Paris Auto Show later that same year. Hy-wire was the next step in proving out the fuel cell concept. …
THE TEAM
LEADERSHIP TEAM: Chris Borroni-Bird – Program Director, Adrian Chernoff – Chief Vehicle Architect, Mohsen Shabana – Chassis Engineering, Robert Vitale – Body Electrical and Ed Welburn, Executive Director of Design.
PROGRAM CHAMPIONS: CEO & Chairman Rick Wagoner and Vice President of R&D Larry Burns + Vice Chairman Robert A. Lutz and Vice President of Design Wayne Cherry.
RESEARCH & DEVELOPMENT TEAM: Christopher Borroni-Bird, Adrian Chernoff,  Mohsen Shabana, Robert Vitale, Frank Colvin, Tommy White, Bruce Zemke, Dave Wetter, and executive Directors: Alan Taub, Jamie Hsu, J. Byron McCormick, and Robert Purcell.
DESIGN TEAM: Wayne Cherry, Edward T. Welburn, Anne Asensio + the design team: Body Theme Creator: Alan Nicole. Body Lead Designer: Alan Nicol, Interior Lead Designer: Sean Lo, Interior Design Support: Theresa Radonich, Chassis Lead Designer: Chet Wisniewski, Initial Concept and Theme Creator of the Reinvention of the Automobile: Tucker Johnson, and design support from Julien Montousse, Marc Mainville, Peter Davis, Ed Knucles, Dave O'Connel, Sung Paik, Alan Rhodes, and Orlo Reed.
GM ENGINEERING SUPPORT + OPEL: Erhard Schubert, Dr. Udo Winter, Christof Sherl, Martin Boeld, Markus Demmerle, Klaus-Peter Harth, Bernhard Mueller, Markus Noll, Dr. Christian Bielaczek, Andreas Adam, Thorston Kuempel, Andreas Hendrich, Jurgen Reinheimer, Tim Arnold, Mike Miller, Joe LoGrasso, Tim Erro, Scott Martin, Ed Pauly, Dave Urban, Ray Wojdacki, Jeff Wolak, Mark Reuss, Ron Edwards, Thai Lee, and Nicholas Zielinski.
SKF BY-WIRE SUPPORT: Filippo Zingariello, Tom Johnstone, Peter Scharnberger, Richard Hannis, Steve Brown, Patrick Le Reun, Edward Holweg, Gianluca Oberto, Gregg Rasmussen, Jean-Luc Gardelle, Andreas Ruetter and Mario Russo.
STILE BERTONE VEHICLE AND CHASSIS BUILD: Roberto Piatti, Anna Costamagna, Giuliano Biasio, Massimiliano Chiara, Johan LeMercier, Eugenio Paliano and Claudio Marini.
AUTO SHOW EXHIBIT: Joe Meagher, GM Auto Shows and Exhibits + Jack Morton Worldwide: Jerry Deeny, David Mervenne, Rick Yardley, and Jean Phillippe Kemp in Europe.
PROGRAM SUPPORT: Nick Pudar, Mark Hogan, Jim Queen, Roger Mikulus, Ken Cameron, John Bereisa, Ron Pniewski, Bill Pierce, Roger Fruechte, Tom Henderson, Ray Bierzynski, William Hartman, Chet Huer, Walt Dorfstatter, Beth Lowery, Kristin Zimmerman, Ella Lee and Johan Willems.
MARKETING AND COMMUNICATIONS: Kathy Marra, Chris Quinn, Robert Corbett, Jean McCarthy, Fred Ritche, Steve Harris, Tom Kowaleski, Chris Preuss, Scott Keller, Scott Fosgard, Karl Bates, Mary Kathryn Seipke, Mary Woodbeck, Dave Barthmuss, Susan Garavaglia, Lerinda Frost, Antone Cervone, Ed Lechtzin, Peter Gerber, Angele Shaw, Juanite Kukla, and John Maciarz.
Summarizing the Hy-Wire
The GM Hy-Wire demonstrates and showcases the world's first plug-and-play (i.e., easily interchangeable) vehicle bodies. The bodies are docked to an innovative and electrified skateboard that incorporates both the propulsion system and a electrical power source with enough onboard electricity to operate the vehicle for nearly 100 miles. (When the vehicle is stationary, the power source can also provide enough electricity to run several homes or businesses.)
The interior is very spacious and offers the driver the choice of sitting and driving on the right- or left-hand side of the vehicle, depending on which country the driver is in at the time (for example, driving in the U.K. vs. in the U.S.). The interior steering wheel is the first GM vehicle steering system to feature a vehicle on/off switch consisting of a single button . By eliminating traditional vehicle mechanics needed to operate and drive a vehicle, the Hy-Wire offers an alternative way to steer without having to lift one's hands off the steering wheel. Also, braking can be performed by squeezing the steering wheel, and accelerating is achieved by twisting the grip on the steering wheel.
As there is no engine up front nor in the rear, for the first time, the driver and passengers can see out through the transparent glass front grill and the back transparent glass "trunk." The lack of foot pedals instead offers positional footrests that can be moved forward or backward to suit the driver's comfort needs. Also, since the steering device does not move forward or backwards, the driver's seat is designed with larger travel to accommodate the needs of 99% of the population.
Some interior features include hidden arm rests that fold up from the door and illuminated lighting positioned in the door trim, roof, floor, wheel arches, and logos. A rear-view camera housed in the steering wheel allows the driver to see what's behind the vehicle, and there are two rear-view displays at the footwells on each side of the car (corresponding to the right hand and left hand mirrors) that convey what's in the driver's blind spots. The spacious, refined cabin seats five adults comfortably and offers drivers and passengers luxurious interior design and top-of-the-line interior environment conditioning.

STARTING WITH THE AUTONOMY COUPE AND NOW THE HY-WIRE SEDAN

The revolutionary GM Hy-Wire integrates technology and design, form and function, vision and action, and it was unveiled just eight short months after the GM AUTOnomy was first showcased. Teams worked around the clock and across the globe to complete the Hy-Wire's rigorous design, build, and validation schedule. Rick Wagoner, CEO and Chairman of General Motors, had stated that a working model would be shown later in the year, and it was indeed delivered on time. This vehicle is the world's first fully-functional and drivable vehicle that's powered with fuel cells and operated with drive-by-wire technology. The AUTOnomy and the Hy-Wire have shown the world that the concepts behind these groundbreaking vehicles have become a reality.